I was just informed by the Site Manager that the Project Director has asked for me to be designated the Safety Officer for the site, due to the fact that we have more than 40 personnel involved in on-going works, and this number will soon jump to a hundred when the sub-contractors move in.
I scratched my head a little, and started wondering what I had done with my safety certifications, and will now have to make enquiries about renewing my Safety Officer's License. All this, over and above my current study for certification to become a licensed Radiation Protection Officer.
And here I was thinking I didn't have to go back to school anymore. They'd better be paying me more money for this.
I've been living with a Vee-four for the last week. Something from my past. Way, way back.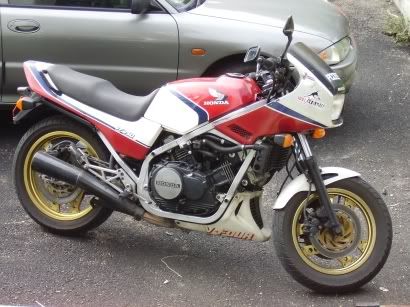 I first rode the VF750F Interceptor when they were launched by Honda in late 1983. These bikes were something different from the universal Japanese motorcycle of the time. The market perception was that big bikes had to be, well, big. This resulted in the 4 across configuration from all the major Japanese manufacturers. Air cooling was the norm, as was a kick starter. The bikes were designed to be multi purpose machines, fitting into the role of sports bike, tourer and commuter.
When the Interceptor came, it made everyone stop and think for a moment. This machine was a V-4, with water cooling. It followed on from the bikini fairings first introduced by Kawasaki for their GPz series of bikes. It was slim. It was smooth and quiet. And it was quick. It was the first inkling that motorcycles were set to be become more specialised and single focus, a move that was finally confirmed with the introduction of the GSX-R 1100 H in 1985. It boasted reliability, and functionality, in one package. And I bought one.
I rode it around for a while, savouring the very smooth engine, and the mile eating seating position. The very famous 'hinge-in-the-middle' handling, much debated in the motorcycling magazines of the time, was a result of the 16″ font wheel. 20 years later, having ridden the latest, fastest, most high tech race and road machinery currently available, this quick handling charateristic is de rigeur amongst today's superbikes, and no one gives a second thought to a twitchy handling machine, controlling it with the installation of a steering damper. But at the time, with a generation of bikers brought up on 19″ front wheels, and wheelbases that wouldn't be out of place on a truck, this bike weirded more than one rider out with the very quick high speed handling.
My Interceptor died an early death, due to being abused by a budding racer at the time who was still perfecting his racing skills, i.e. me. I didn't lament the going of the Interceptor, immediately taking the insurance money and getting a GSX-R 1100, and then quickly trading that in for 2 race configured GSX-R 750s. And the bike didn't cross my path again until last year, when a good buddy and brother told me he had one. I didn't really think about it, and said ok to the sale. And there the matter ended.
I didn't see the bike, I didn't go pick it up, I didn't do nothing. I just left it in the hands of my buddy, because I was busy with life, the universe and everything. Until about 2 weeks ago, when I suddenly got a call out of the blue from my buddy. His father had just passed away early this year, and that was the last time we met. We didn't discuss the bike at all. Until this phone call. In and amogst discussing other things related to our riding club, he mentioned the Interceptor, and asked me what I wanted to do with it. I said I would pick it up, and was thinking about how I was going to explain the addition of yet another motorcycle to the stable.
2 days later, I was sitting idly in front of my laptop at work, waiting for the Autocad to finish some rendering, when I saw the MSN I.D. of a friend from a forum I frequent. This guy had asked me about bikes some time last year, and had the ambition of owning a big bike. So I messaged him, and asked him if he wanted the bike. We chatted for a while, sorted out the price, and other details. And after clearing the deal with his wife, he confirmed the deal.
And the bike is now his. It's still in my hands, pending his going for his license to ride a large capacity motorcycle. And I decided to take it in to work this morning, to warm the engine up, and charge the battery. And I'm really beginning to like this bike again.