I woke up some Sundays ago, and was having the first roll-up of the day, waiting for my breakfast to be ready, when I heard a barking. Living as high up in the sky as I do, sound travels quite well. This is especially apparent in the wee hours of the morning when the club behind the condo is operating at full volume on Saturday nights.
On this particular occasion, the barking caught my attention, because it sounded closer than usual. So I looked around, and located the source of the noise.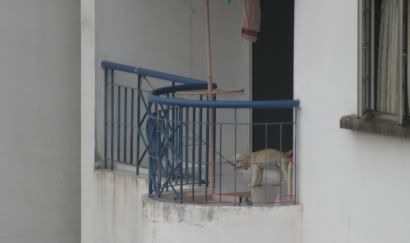 I saw this little dog, playing by himself on the balcony, some 10 stories up in the air. Since that particular morning, I've been monitoring that little dog on a semi-regular basis, and he apparently lives on that balcony, permanently. He must be taken into the unit when it rains, because I don't hear him yelping to be let in. But I've never seen him taken off the balcony, for a walk, or runs, or anything. I don't see anyone playing with him, or giving him a cuddle. A very lonely little dog, living high up in the sky, with only the flying birds, and the clouds, for company.
I spent most of the weekend shopping, and spending altogether too much money on "Thomas the Tank Engine' stuff. So sue me, they were having it on sale. Also a "Bob the Builder" playset.
But for some strange reason, I seemed to spend most of the Saturday running into faces from the past. One of them was Simon, who is a Headhunter. I last met up with him about 2 years ago, when I was invited for a Headhunter barbeque, a very liquid affair involving copious quantities of wine, beer, assorted liquor, large chunks of meat, a swimming pool and a Rhodesian Ridgeback named … wel l… "Harley". We shared a beer in Chili's, both of us catching up on the work and personal scene, notably which bikers were still riding, and who was dead. The wives did the girly thing, and the kids ran around screaming. We still intend to start up "Hogs and Dogs", a motorcycle club for bikers who own 2 specific types of V-twin. For admission into the club, you'll need to own a Harley-Davidson, and a Ducati.
The other, weirdly enough, was someone I hadn't seen in the last 20 years, nor thought about. I was paying my parking ticket at the machine when someone came up to me and grabbed me by the shoulder. He asked if I recognised him, and I had to plead my ignorance, and he told me his name. Which allowed me to immediately place him as a college mate. Not only that, someone whom I used to hang out with fairly regularly. We lost contact after college, as is usual, and I was pleasantly surprised that he recognised me. What he said to me was, "I'll never forget that smirk on your face."
So, there it is. A weekend where I met 2 old friends, and renewed my friendships with them.
We've settled into the new site fairly well I think. A million and one details to be seen to just to set up a temporary site office, which we'll only be occupying for six months. I've been walking around the building, and have been impressed with what I've seen thus far. Compared with the previous place, the walls here are straight, the plasterwork is immaculate, the windows are double glazed, and not wavy. The overall quality of build is something to write home about.
Now to see if we can manage to shoehorn a pair of linear accelerators in the fucking bunker located in the basement. The main contractor went ahead and built the nuclear bunker, wihtout considering how the lin-acs are going to be installed. The longest single component is a few centimeters shy of 3 meters, and it's going to be a bastard getting it to fit around 1.8 meter wide corridors.
Or we could lift the roof off the bunker and drop it in with a crane. Which, when the client's project director asked me how we were going to lift it, made his face blanch. Because my solution involves using dynamite.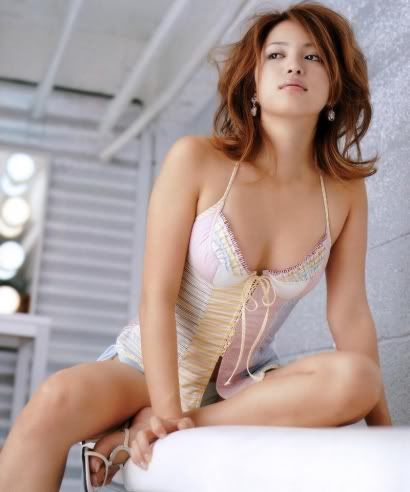 I haven't been updating much, for which I have to plead work, family and a serious lack of sleep.
The new place seems to have come to an idle state, mainly because we're waiting for drawing approvals, which may or may not take a long time. We are supposed to have this place handed over to us on the 2nd of September, in a state ready for the equipment installation. Fat chance. I was walking around the place with Johannes yesterday afternoon, and whilst having a cigarette break in Pathology, we heard the sound of jack hammers all around us. No way this place will be ready in a week's time. I'd bet my left testicle on it.
Chiq has decided to stop blogging. She left me a message yesterday, and I was rather surprised at it. I know she's been having a rough time of things lately, and I wish her well. I hope she returns to the blogosphere, in her own time, and on her own terms.
A brother, Jeyadev, also managed to break his leg riding his bike home from work. I visited him in hospital the day after the accident, and he looked slightly the worse for wear. I met his father, who is, I believe, a preacher, and I rather wonder what he made of me. I felt like I was 10 years old and standing in front of the headmaster when I spoke to him. Even though I was wearing my riding gear and boots, holding my helmet, and I easily stood 4 inches taller than he did. I guess some people just have the knack of making you feel inadequate.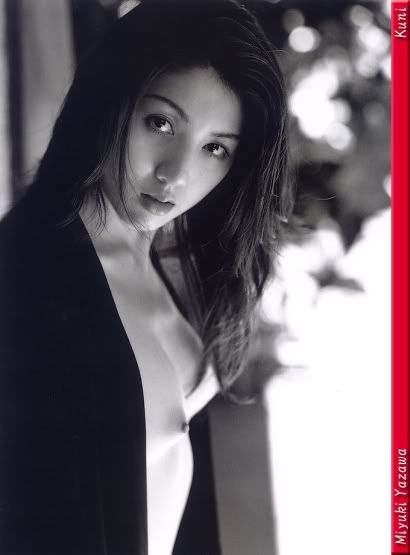 The snark is dead.
older posts »